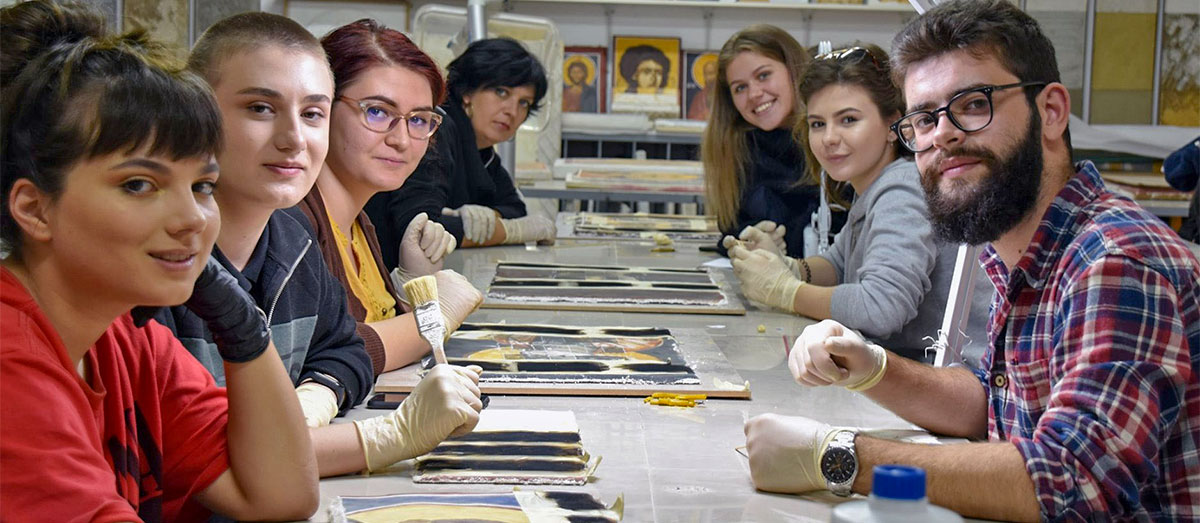 Conservation and Restoration study program was established as a result of requests from the cultural-artistic and economic – tourist sphere in the northern and eastern part of the country. The main mission of the Conservation and Restoration Department is focused on trainingas for:the conservation and restoration of artworks, the scientific knowledge of various fields related to conservation and restoration, on training of personalities with a higher level of education who are able to actively participate in the activity of supervision, conservation and restoration of artworks related to the national and international cultural heritage and is also focused on promoting cultural values related to national specificities.
Conservation and Restoration study program is accredited for the Bachelor's and Master's study programs and includes two study directions: Mural Restoration and Tempera Painting Restoration.
Under the coordination of specialized teachers, students participate in practical stages of training which are useful for bachelor's and master's thesis papers, they study monuments within national and international conservation-restoration projects.
They also have the opportunity to study a semester at one of the European partner universities in the Erasmus+ program.
Fundamental disciplines: Drawing study | Color study | History of universal and Romanian art | General theory of restoration;
Disciplines specific to visual arts: Fundamentals of chemistry | Notions of physics and artwork investigation | Iconography | Artistic techniques | Etiopathogenic systems investigation | Perspective, descriptive geometry.;
Specialty disciplines : Specialized practice | Methodology for writing a bachelor's thesis | Scientific investigations for restoration | Biodegradation of an artwork | Preventive conservation elements | Basics of photography, photographic techniques;
Optional disciplines: Methodology for restoring mural painting/tempera on wood | Restoration documentation for mural painting/tempera on wood | The material structure of mural art/tempera work on wood | Restoring methodology of an artwork on organic and inorganic support | Restoration documentation for textiles, stone, canvas | The material structure of an artwork made of organic and inorganic material (textiles, stone, canvas, leather).;
Complementary disciplines: Computer image processing / Notions of cultural heritage / Foreign language.
Upon graduation, students get a degree in Visual Arts, Conservation and Restoration, which can help them to herein various fields, such as: cultural heritage restoration, mural and wood painting conservation/restoration, restoration of artworks and historical monuments, museography, teaching in secondary school, high school or other artistic fields.
The study program has its own spaces for the educational process: classrooms, workshops and laboratories, technologies of mural techniques transposition.
The laboratories benefit from an adequate endowment according to the standards: exhaust and safety equipment, portable and fixed investigation equipment, electronic microscopes, photo and video equipment, specialized instruments.