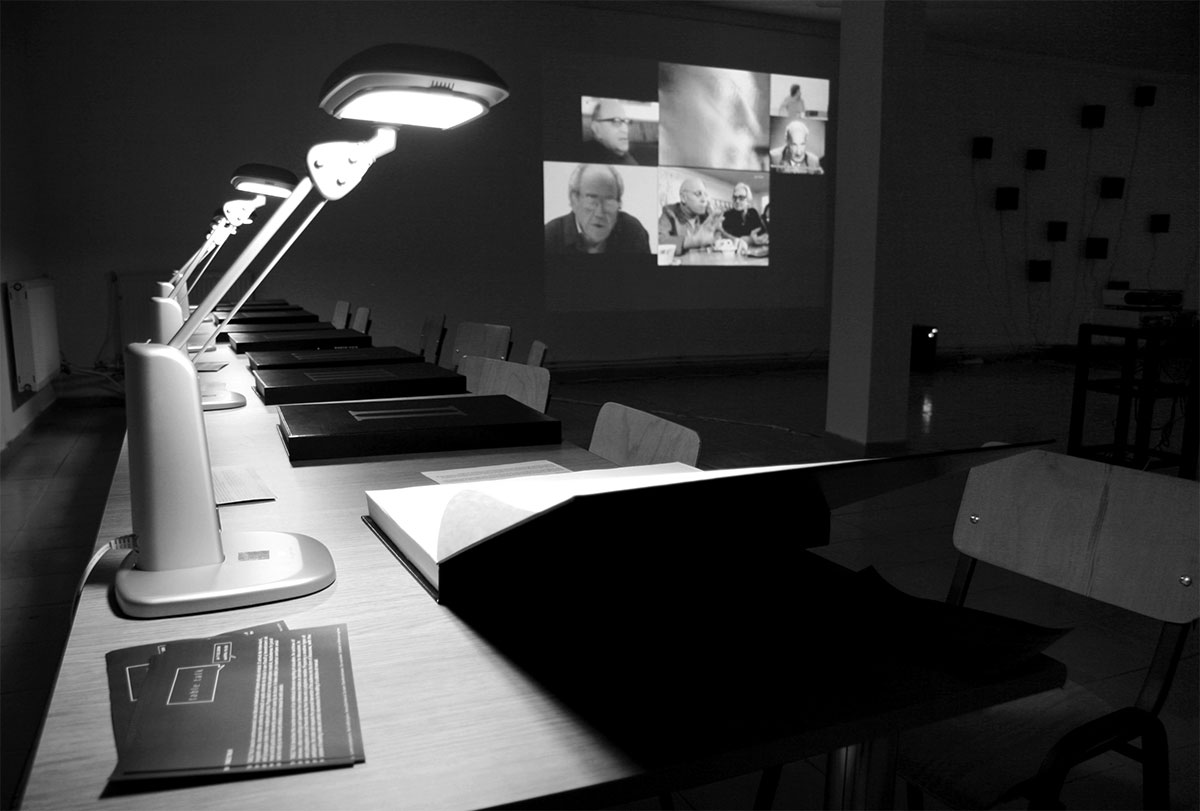 The activity of scientific research harmoniously combines with the activity of artistic creation, this being the specificity of the artistic higher education.
The research and artistic creation in the Faculty of Visual Arts and Design in Iasi is materialized in various types of activities (participation in exhibitions, creative camps, symposiums, national and international conferences, publication of articles in specialized journals) and in grants for research/national artistic creation obtained through competition (CNCSIS, CEEX, other national cultural programs) or grants for research/international cultural programs. The research topics within the PhD and master theses are part of the research/creative themes within the research and creation centers, reflected in the content of the publications owned by the centers.
Among the publications edited by the teachers of the Faculty can be mentioned: The magazine "Anastasis – Cercetare în Cultura și Arta medievală" [of "Vasile Dragut" Research Centre of Medieval Art] and "Studies in Visual Arts and Communication – an international journal", printed online and included in international databases (ERIH PLUS, CEEOL, SCOPUS-Elsevier, EBSCO, SCIPIO, SIS, DOAJ), as well as the series of books "Vector – critical research in context".
AESTHETICS AND ARTISTIC CREATION
Director: Assoc. Prof. PhD Cristian Nae
Competence areas:
The theoretical direction focuses on the exhibition studies as well as on the comparative analysis of visual image and culture and the use of critical theory in the theorization and writing of contemporary art history.
 "CREART" – CONSERVATION, RESTORATION AND APPLIED ARTS
creart [at] arteiasi.ro
Director: Prof. PhD Carmen Solomonea
Competence areas:
the science of conservation and restoration;
education and training of specialists in the field of conservation and restoration, old artistic techniques, and technologies;
strategies to highlight the national cultural heritage, architecture, and applied arts – dialog between traditional and contemporary practices in art, design, and industry;
experimental aspects for the transposition of artistic techniques into contemporary architecture.
"VASILE DRAGUT" RESEARCH CENTRE OF MEDIEVAL ART
http://www.arteiasi.ro/cam/
centrulvasiledragut[at]arteiasi.ro
Director: Prof. PhD Codrina Ioniță
Competence areas: History of medieval art, Architecture, and medieval art.
Anastasis review is indexed in important scientific databases.
CONTEMPORARY PHOTOGRAPHY CENTRE IN IASI
c-f-c.ro
contact@c-f-c.ro
Contact: Str. Rece nr. 5, Iaşi, RO; Telefon: +40.723.508.738.
It is a platform for reflection on the environment of contemporary photography and the dynamic image, as well as on their relationship with the current political, social, economic, and cultural context. One of the main objectives of C_F_C is the production of contemporary image, the coagulation of the Romanian contemporary photography scene and its integration into the international context.
CENTRE FOR RESEARCH, DEVELOPMENT, INNOVATION AND TECHNOLOGY TRANSFER, INNOVISART
innovisart.arteiasi.ro
https://www.facebook.com/Innovisart-Research-Centre-103485918299364
florian.grigoras@gmail.com
Director: Prof. PhD Florin Grigoraș
It is a research unit focused mainly on applied research and its valorisation through development, innovation, and technological transfer. CCDITTI also carries out fundamental research necessary for the definition, research, design of products that will be developed and implemented as an application.
PAINTING CONTEMPORARY VISUAL PRACTICES RESEARCH CENTRE
ccp.arteiasi.ro
Director: Assoc. Prof. PhD Zamfira Bîrzu
Board: Asist. Prof. PhD Ioana Palamar, Asist. univ. dr. Adrian Crișmaru
The centre aims to relaunch the interest in the practice of painting as a current medium of artistic expression, in the context of the interdisciplinary character of contemporary art. The declared area of interest of C.C.P. is painting, but the assumed work strategy also includes collaborations with artists from other medial areas (sculpture, graphics, performance, happening, etc.) and with people working in collateral fields (psychology, nutrition, sports, etc.) which will allow a better understanding of the complexity of the contemporary artistic phenomenon.
GRANTURI SI PROIECTE DE CERCETARE NATIONALE SI INTERNATIONALE
1. Retea colaborativa online in invatamantul superior artistic romanesc pentru compatibilitatea absolventului de design grafic si industrial pe piata muncii
Universitatea de Arte "George Enescu" din Iaşi a demarat proiectul intitulat "Reţea colaborativă online în învăţământul superior artistic românesc pentru compatibilitatea absolventului de design grafic şi industrial pe piaţa muncii" – POSDRU/86/1.2/S/63661 cofinanţat de FONDUL SOCIAL EUROPEAN,Programul Operaţional Sectorial Dezvoltarea Resurselor Umane 2007 – 2013
Axa prioritară 1 "Educaţia şi formarea profesională în sprijinul creşterii economice şi dezvoltării societăţii bazate pe cunoaştere"
Domeniul major de intervenţie 1.2 "Calitate în învăţământul superior"
Parteneri: Universitatea de Arte George Enescu Iasi, Universitatea Nationala de Arte Bucuresti, Siveco Romania S.A.
Director proiect Conf. univ. dr. Florin Grigoras
2. GRANT CNCSIS tip PN-II-PD nr. 104/13.08.2010 – Reprezentare şi acţiune. Consecinţe estetice ale aplicării teoriei actelor de limbaj in analiza artei conceptuale
www.arteiasi.ro/ita – Cercetare
Proiectul propune o schimbare de perspectiva si metodologie in analiza artei conceptuale, inteleasa atat ca ca fenomen istoric cat si ca atitudine artistica in sens general. Sub raport filosofic, proiectul vizeaza definirea esentei art-istorice a artei conceptuale prin intermediul calitatilor sale para-estetice si prin functia sa pregnant comunicationala. De asemenea, se urmareste o examinare ontologica a artei conceptuale, prin incadrarea sa intr-o filosofie a actiunii. Propunandu-si sa contureze un cadru filosofic explicativ pentru utilizarea actelor de limbaj in cadrul artei conceptuale, cercetarea de fata initiaza o investigatie a conditiilor socio-culturale de producere si receptare a artei conceptuale ca act de limbaj, a contextului institutional in care acestea au loc (lumea artei) si a consecintelor lor estetice.
The project proposes a shift in the perspectives and methodology of analyzing conceptual art, as a narrowly understood historical phenomenon and as an artistic attitude in a broader sense. Philosophically, the project intends to define the art-historical essence of conceptual art by means of its para-aesthetic features and its communicational function. It also adresses it ontologically by interpreting it in the framework of a philosophy of action. Aiming at providing an explanatory philosophical framework for the use of speech-acts in conceptual art, the present reseach initiates an investigation into the conditions of production and reception of conceptual art as speech-act, of their specific institutional context (the artworld) and of their aesthetic consequences.
Project director: Ph. D. Lecturer Cristian Nae
2. CERCETARI TEORETICE SI EXPERIMENTALE PRIVIND UTILIZAREA MATERIALELOR ECOLOGICE IN DOMENIUL DESIGNULUI (THEORETICAL AND EXPERIMENTAL RESEARCH CONCERNING THE ECOLOGICAL MATERIALS IN DESIGN AREA) Grant CNCSIS – Program Idei – PN-II-ID-PCE-2007-1 (Cod 1226/2007)
Proiectul urmareste dezvoltarea cunoasterii prin cercetare pentru rezolvarea unor probleme complexe, de frontiera, cu o abordare interdisciplinara in domeniul ecodesignului. Avand in vedere faptul ca designul de produs este un factor hotarator si educativ pentru industria producatoare de bunuri de larg consum, in conditiile in care exista preocupari reale in lume legate de utilizarea materialelor ecologice, proiectul propune crearea unei baze de date necesare in proiectarea unor noi tipuri de bunuri de larg consum, din materiale ecologice, cu tehnologii al caror impact asupra mediului este mai putin daunator. Baza de date creata astfel va permite extinderea cunostintelor si cresterea capacitatii de cercetare, cu implicatii favorabile asupra competitivitatii internationale romanesti. Proiectul incurajeaza formarea cercetatorilor din domeniul designului care sa tina cont de importanta ecodesignului, sporind calitatea stiintifica a cercetarilor din acest domeniu. Teoretic designul se regaseste in toate activitatile, motiv pentru care proiectul va avea ca obiective studierea ecodesignului, materialelor, tehnologiilor, regulile de proiectare ale produselor ecologice, viata produselor, circuitul acestora in natura. Baza de date va fi creata in urma unor ample activitati de documentare, fiind vizate mai multe domenii de activitate, studii de caz, noi concepte de produse ecologice.
The project is intented to develop knoledge trough research, for solving complex edge problems, with an interdisciplinary, in the domain of ecodesign. Considering that retail design is a decisive and educative factor, for the retail industry, in the conditions in which there is a real concern worldwide on using the eco-frindly materials. The project is supposed to create a database needed to design new type of retail products, made out of eco-friendly materials, using technology that doesn't harm the envoirment. The database thus created will allow extending knoledge and raise the research capacity, with favorable implications on romania international copetitivity. The project is intended to encourage the formation of design research that would consider the importance of ecodesign, rasing the scientific quality of the research in this domain. The design theoretically is present in all activities, that is why the project will studies ecodesign, materials, technologies, ecological products design rules, products life, and their cicle in natural invoirment. The database will be created following vaste documenting activities, in many domains, case studies, and new ecologycal products concepts.
Echipa de cercetatori antrenati in proiect: Conf. dr. ing. Pralea Jeni – Director proiect, Conf. univ. dr. Sficlea Magda Ligia, Lector univ. dr. Pop Monica, Asistent univ. Buraga Silviu, Prep. univ. Soltuz Elena.
3.CERCETAREA MULTIDISCIPLINARĂ ŞI MONITORIZAREA UNOR MONUMENTE ÎN CURS DE RESTAURARE Program CEEX, Durata: 2005-2008
Institutia conducatoare INSTITUTUL NATIONAL DE CERCETARE DEZVOLTARE PENTRU OPTOELECTRONICA – INOE 2000 Bucuresti, director din partea Universităţii de Arte Iaşi, lector univ. dr. Octaviana Marincaş
4.RETEA FORMATIV-COLABORATIVA PENTRU CONCEPTIA ASISTATA BAZATA PE MANAGEMENTUL DURATEI DE VIATA A PRODUSELOR
Centrul Naţional de Management Programe – CNMP, Programul 4: Parteneriate în Domeniile Prioritare, Direcţia de cercetare 4, Tipul proiectului PC
Parteneri: Universitatea Tehnica Gh. Asachi Iaşi, SC RETROM SA Paşcani, ADA Computers Bucureşti, Universitatea Ştefan Cel Mare Suceava, Universitate de Arte George Enescu Iaşi (director conf. dr. ing. Pralea Jeni)