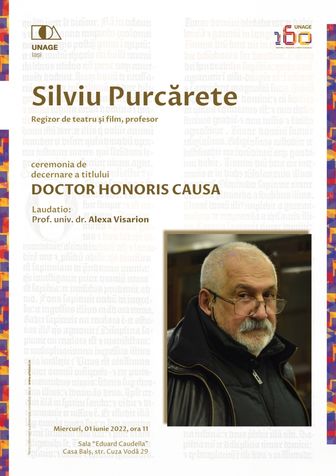 On June 1, 2022, the "George Enescu" National University of Arts in Iași will award the high academic title of DOCTOR HONORIS CAUSA to the theater and film director, professor SILVIU PURCĂRETE. The ceremony will be presided by the Rector, Prof. PhD Aurelian Bălăiță.
His performances have received numerous awards and have been praised by critics, becoming famous for their visual component and the free treatment of dramatic texts.
The most important awards and distinctions: (1) Edinbourgh 1991 – Critics' Award for Best Performance; (UBU REX) and Price of Hamada Foundation, (2) Golden Globe awards 1995:  Peter Brook Price for FURTUNA by Shakespeare à Nottingham Playhouse), (3) Montreal 1993 – Price for the best foreign show, (4) Edinburg 2013 – Herald Ange Price.
Decorations: (1) ROMANIA: Comandor al ordinului "STEAUA ROMANIEI", (2) FRANTA: Chevalier des Arts et des Lettres.
The ceremony will be attended by artists and representatives of local authorities, UNITER President Dragoș Buhagiar.